When looking at under the hood architecture for Cloud leaders, we immediately see 2 common things:
Few disclosed figures make you feel dizzy (yes, 1 Peta = 1000 Tera…)
Very few technical infos disclosed
What happen is that Google & Azure recently let some infos going out for their network 🙂
Facebook is more ahead and provide more information.
Microsoft Azure
About Azure, here are slides from Russinovich master (click on image to get PowerPoint (29 slides)):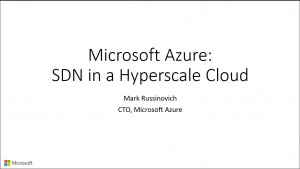 Most important news: they use FPGA (programmable processors) to manage network layer (40GbE/s) (or to mine bitcoins, who knows!).
Last time I had valuable informations was at TechEd in 2012, again from Mark. Video is still online:
~10 people to admin around 100 000 servers!
Demo of one of the Azure admin interface,
Graphical view of racks with VM,
Demo on platform self healing,
Explain on leap day bug (29th of february), with even source code line that broke everything
Google
Looks like they index evertything excep their own architecture content (with a killer robots.txt 😉
Techcrunch collected interesting infos, again on their network management (SDN):
http://techcrunch.com/2015/06/17/google-pulls-back-curtain-on-its-data-center-networking-setup/
In 2009, They had published a visite in their datacenter, with a server content inside a container: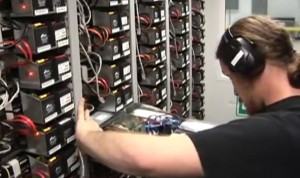 Facebook
They are more chatty, may be frm their DNA…:
https://code.facebook.com/posts/360346274145943/introducing-data-center-fabric-the-next-generation-facebook-data-center-network
Figure 2:
A Facebook server (old model I guess):
Empty at the back is true:
Office365
Most information are about Exchange:
Backup less,
3 replicate + 1 Lag at 8 days (goes down to 0 in case of issues)
JBOD storage (1 database per hard drive).
Optimizations through Exchange 2016
Office 365 is independent from Azure, while some services are using it and merge is upcoming I guess.
Amazon
They are using Xen for virtualization,
They also make their own server,
Based on Open source
Conclusions
They have hyper needs, but also hyper resources to handle them:
Complete control of the entire chain: datacenter, network, servers, OS, hypervisor, applications, load balancers, SQL engines
Developments in low layers : SDN, FPGA…
Source code (and people to handle it): Windows for Microsoft, Linux for Google, Facebook and Amazon
They use Open source (OpenFlow, memcache, Hadoop…) but extend them,
If they think so, they can spend huge money on topics (like Google with its SDN).
All this gives them a strong independence from other enterprises and their potential buyouts. Other topics may cost less from quantity point of view (ie: earning $50 per server, x300 000)
Where we generally happily stop (geo cluster, DRP, LB) it's minimum to provide for them. Once this done, another road open with load.