SharePoint n'est pas avare en message, et ils ont presque toujours une origine, reste à trouver laquelle…
Cette fois, le message suivant est apparu sur la ferme 2010 et 2013: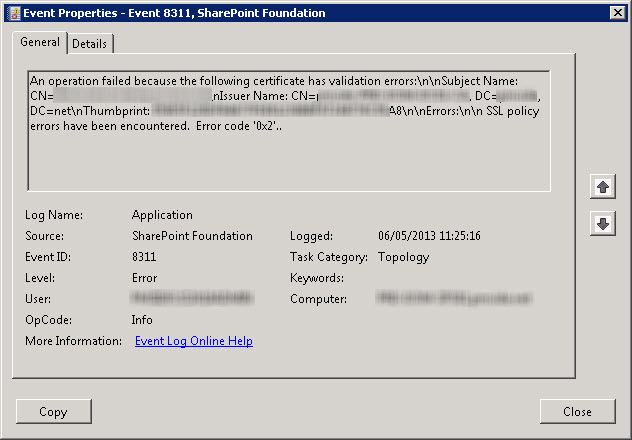 Ce qui donne:
Log Name: Application
Source: Microsoft-SharePoint Products-SharePoint Foundation
Event ID: 8311
Task Category: Topology
Level: Error
Description:
An operation failed because the following certificate has validation errors:nnSubject Name: CN=Server.mydomain.netnIssuer Name: CN=my-CA, DC=mydomain, DC=net

Errors:nn SSL policy errors have been encountered. Error code '0x2'..
Cause
Un certificat a été assigné dans IIS pour le site SharePoint Web Services (binding SSL port 32844).
Résolution
Le problème ne vient pas de la confiance du certificat, mais du subject name. Il s'avère que le serveur est enregistré avec le nom court dans la ferme, et que le certificat contient le FQDN.
2 solutions:
Générer un autre certificat avec un subject name qui correspond au serveur,

Renommer le serveur dans la ferme SharePoint.
C'est cette deuxième option qui a été renommé, à faire en PowerShell.
Lister les serveurs avec leur nom inscrit dans la ferme:
get-spserver
Renommer un serveur (à lancer localement sur le serveur):
Rename-SPServer -Identity MyServer -Name MyServer.MyDomain.net
Faire un iisreset ensuite, et patienter 10mn que la topology se mette à jour 🙂