Suite au retour sur Dedibox, j'ai décidé d'utiliser Hyper-V plutôt que VMware pour la virtualisation. Les adresses IP publiques sont facturées chez Online.net, et d'autre part je ne veux pas que certaines VM soient exposées sur Intrenet (DC, Exchange…).
Par défaut, Hyper-V ne permet pas de faire du Nat, et donc cacher tout se beau monde tout en leur donnant accès à Internet.
Voici les grandes étapes:
Installer le rôle Network Policy and Access Services
Créer un réseau interne dans Hyper-V
Assigner une adresse IP fixe (ex 192.168.1.1) sur la carte réseau du réseau ainsi crée (carte virtuelle Hyper-V)
Configurer Routing and Remote Access pour faire du NAT
Configurer les VM afin d'utiliser le réseau virtuel Hyper-V et de passer en DHCP ou IP fixe suivant vos souhaits.
Ajouter le rôle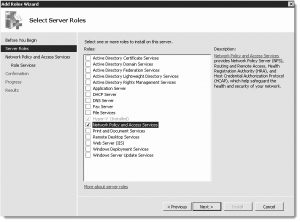 Configurer le NAT